Evenly cools every corner
All-Around Cooling enables everything fresh by cooling every inch of the fridge evenly from corner to corner. Cold air is blown out through multiple outlets at every shelf level, maintaining an even and constant temperature from top to bottom and food stays longer.
Easy to find and reach
Getting food out of a refrigerator often means navigating an obstacle course of items. RT6000 refrigerator's Easy Slide Shelf which simply slides in and out helps you to efficiently store, organize and access your groceries-quickly and easily reaching things right at the back and in every corner.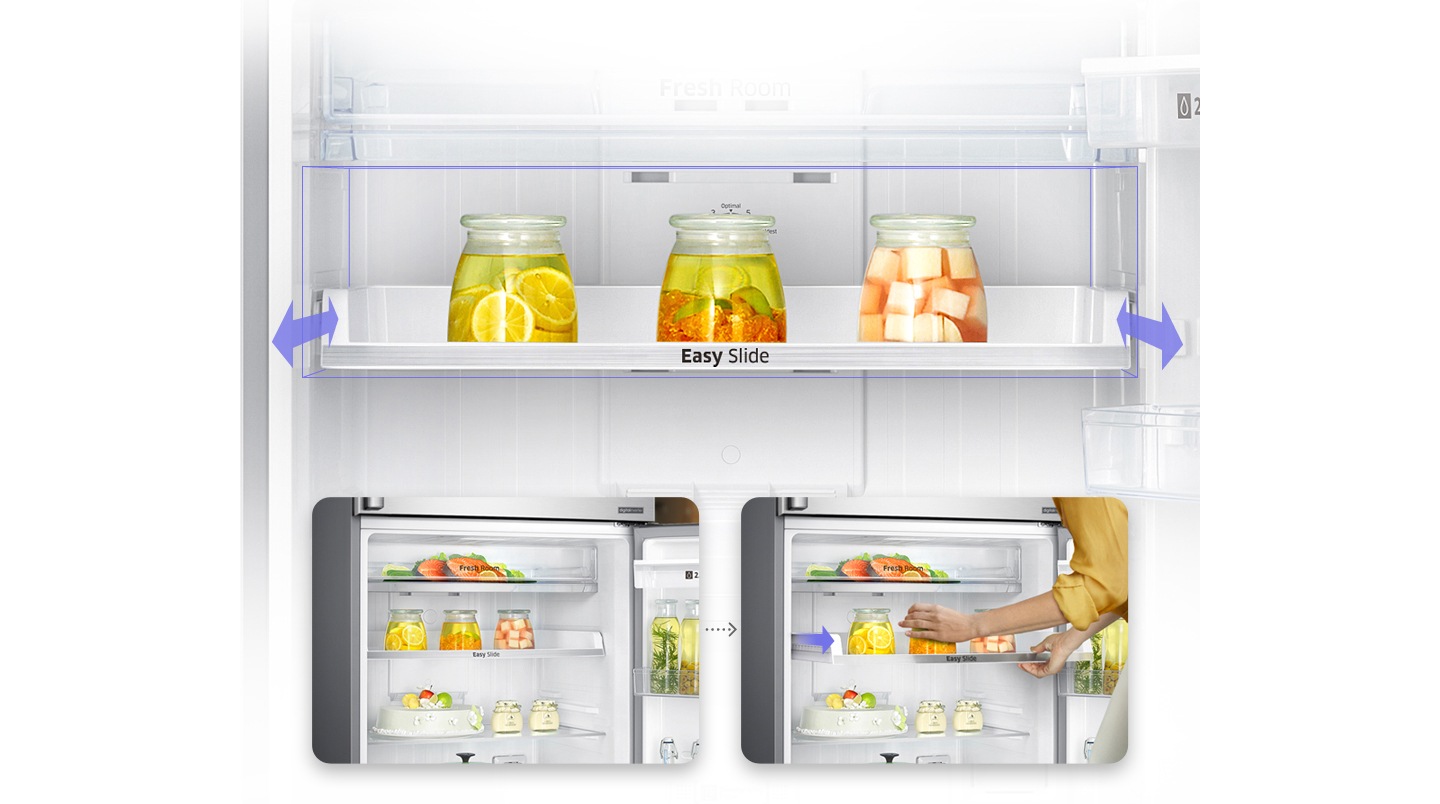 Wider inside keeps food organized
Open the door on Samsung refrigerator to reveal a spacious inside. Slim-designed wall duct provides more depth and usable space with neatly organized interior. Enjoy enough room to store, see and relieve what you need quickly and efficiently.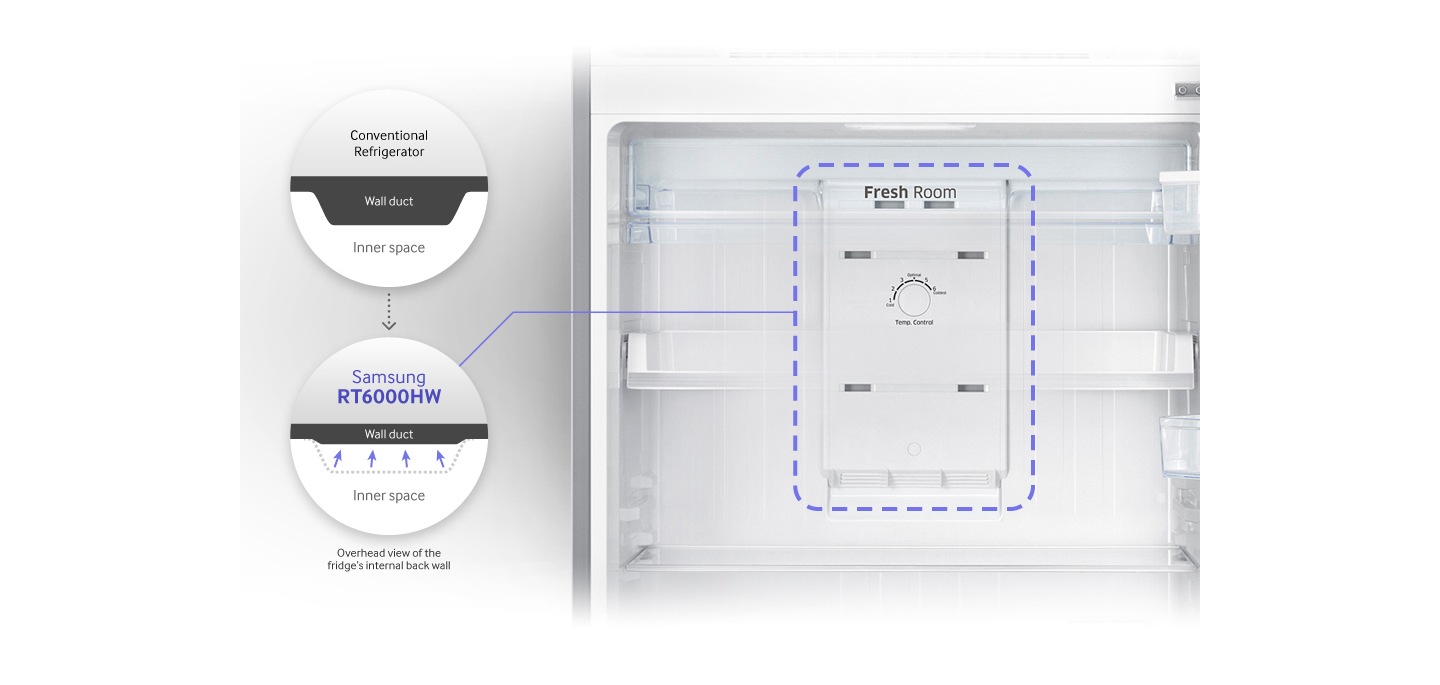 2nd vegetable box preserves small produce
Keep small produce in the Crisper drawer*. This 2nd vegetable box along with Moist Fresh Zone allows you to store separate easily perishable, soft texture produce like berries, cherry tomatoes and mushrooms.*Option
Sterilizing filter keeps air clean
With the Anti-Bacterial Protector*, you can rest assured that your refrigerator is clean and hygienic. Air in the fridge is sterilized as it passes through the filter on the fan which is activated always activated.*Option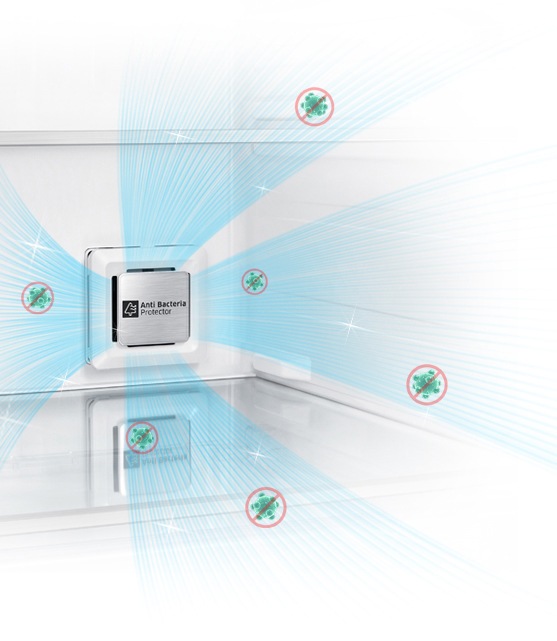 Odor eliminator maintains original flavor
With the Deodorizing Filter*, there is no need for alternative odor fighting solutions. This built-in natural fiber filter is made of activated carbon, which efficiently eliminates bad smells in the fridge. Air is kept fresh, preserving the flavor of your food longer.*Option
Separate Storage Solution
The Multi Storage Basket* is the ideal place to organize and store various items – from favorite condiments and sauces to cosmetics and medicine that need to be kept cool. This separate compartment helps keep you organized, and can be detached and easily moved as desired.*Option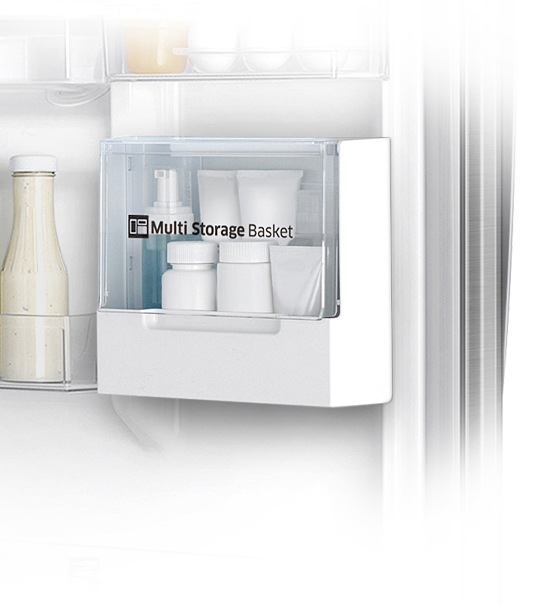 Enjoy cold drinks any time
Quickly chill food for optimal freshness after a trip to the market with the Power Cool feature on this Samsung refrigerator. At the touch of a button, cold air is blown into the refrigerator to temporarily reduce the inside temperature to 1°C. With its almost instant chill, food will stay fresh longer while beverages will be quickly cooled for drinking.
Power Cut Resistant
When unexpected outages happen, Coolpack in the freezer comes to the rescue by keeping food frozen for up to 10 hours longer than conventional models. Upgraded RT6000 Coolpack helps to stop food from defrosting and losing to wasted.
Metallic design suits modern décor
A solid metallic exterior finish will match any kitchen décor while this refrigerator will stand the test of time from both a durability and style standpoint. Easily cleaned metal finishing provides extra convenience in maintenance. External Ice Blue LED display and a waist-level water dispenser seamlessly integrated into the design provides premium look and feel.
See more, find better
The Samsung RT6000 Refrigerator's high efficiency and long lasting LED lighting is slimmer, brighter and more power-efficient than conventional lighting. Located on the top sides of both the refrigerator and freezer, it brilliantly illuminates every corner of the interior space so it is much easier to find what you're looking for.
Store more big bottles
Keep the whole family happy with quick grab and go beverages. The Big Guard makes it easy to store big and tall bottles like milk, water, soda and condiments. The shelf offers easy access storage in the door for bottles up to 3 liters and boasts two additional storage rows for cans.

More ice made easy
IceMax easily allows you to make and store a large amount of ice – a simple twist is all it takes to dispense a bounty of cubes. It makes 2.5 times more ice, while storing 2 times more ice compared to similar models. Now, all the ice you need is easily made, conveniently stored and ready when you are.
Specifications
Net Case Height with Hinge (mm)

1825 mm

Net Depth with Door Handle (mm)

726 mm