Unique elegance
Bespoke design
Give your kitchen an elegant and modern look with colors that reflect your personal taste and blend with the general interior design. The doors are available in a wide range of elegant Bespoke* colors and materials.
* Available door colors include: Glitter Vanilla Glass Finish, Glitter White, Glitter Black, Glitter Pink, Glitter Navy, and Glitter Peach. Ceramic finish in white, taupe and pink made from entirely post-consumer recycled materials.
Smart way to save energy
SmartThings AI Power Saving Mode
Monitor your energy consumption and take proactive steps to reduce it. AI Energy Saving Mode* analyzes your usage patterns of the refrigerator and estimates the level of energy consumption based on AI technology. And if your estimated electricity bill exceeds a preset maximum, you'll be alerted to activate saving mode to reduce energy consumption by up to 7%**.
* Available on Android and iOS devices. Wi-Fi connection and Samsung account required.
** Available for select models via update on Wi-Fi. Energy consumption can be reduced by improving the speed and performance of the compressor as well as adjusting the freezer temperature. Results are based on internal testing and may vary depending on conditions and usage patterns.
2 times more freshness
Optimal Fresh+
Preserve the freshness and quality of your food up to 2x longer than usual*. The Optimal Fresh+ drawer allows you to choose between 4 storage positions for different foods. In Soft Freeze mode, you can preserve the quality and taste of delicate foods such as meat and fish up to twice as long* than usual.
* Available on select models.
** Tested by Samsung Electronics. Intertek provided the data to help Samsung analyze it in accordance with Samsung's project plan. Tested on model RT47CB668422ST and based on Air Plate Count (APC) analysis of food samples after storage in test units. This applies when setting to the "Soft Freeze" mode, where the button is set to the MAX position and the temperature is 1°C, compared to the freezer room (2°C) in the freezer compartment. Results may vary based on freshness, conditions of use, and other prior to storage factors.
Extra space inside
SpaceMax™
You can store more food thanks to the spacious interior, enhanced with an additional 20 liter capacity*. The unique SpaceMax™ technology uses a special high-urethane insulation that allows the sides of the refrigerator to be extremely thin without compromising energy efficiency. So it offers much more storage space inside.
* Based on RT47CG6644S9ST vs. RT43K6230S8/ST.
Plenty of ice available whenever you need it
Automatic Ice Maker (*Optional)
Get the amount of ice you need for your cold drinks at any time, and enjoy extra space in your freezer with an automatic ice maker* that automatically prepares ice cubes and stores them in the basket underneath. So you can take the basket out of the freezer to serve ice wherever you want. Also, including it inside the freezer gives you more room to save your food.
* Only available on certain models.
99.99% less bacteria* on the air filter
Active Fresh Filter (*Optional)
Keep your fridge clean and reduce the risk of food contamination with the Active Fresh Filter* that removes 99.99% of bacteria** that come in contact with its surface. The air passes through an activated carbon filter, where it is sterilized and deodorized, while the anti-bacterial net takes care of the task of eliminating bacteria.
* Available on select models.
**Tested by Intertek. 99.99% of Staphylococcus aureus and Escherichia coli.
Intelligent control
WiFi included
You can monitor and control your refrigerator anywhere and anytime. With built-in Wi-Fi, you can monitor and adjust your refrigerator's performance using the SmartThings* app. Easily control the rapid cooling mode, adjust the temperature and receive alerts when the door is left open. It also detects faults and diagnoses problems.
* Available for Android and iOS devices. Wi-Fi connection and Samsung account required.
Smart home solutions with SmartThings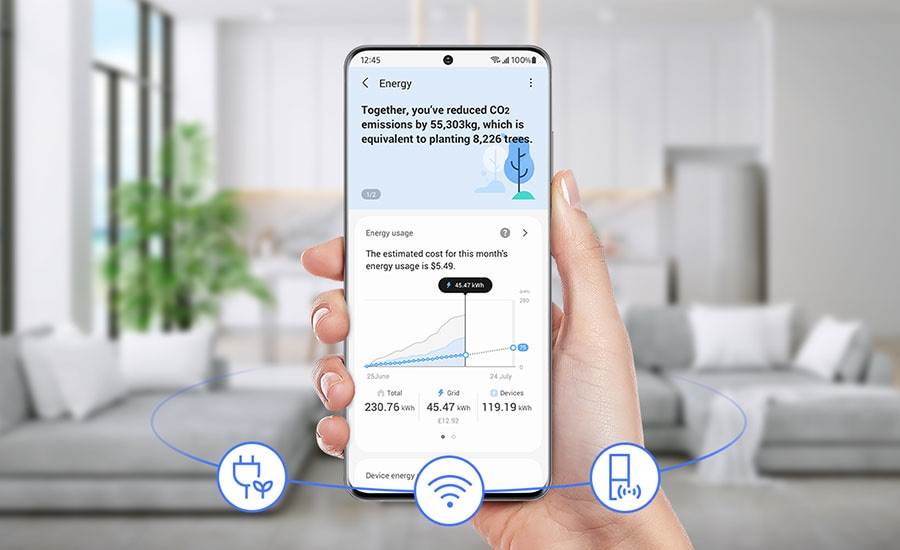 SmartThings Energy
Efficient energy consumption and smart saving
Control your energy consumption to reduce carbon emissions and save money. The SmartThings Energy* app provides energy efficiency tips, and monitors how much energy your devices** are using in real time and then compares them to the previous month. It also alerts you if you exceed the maximum monthly consumption.
* Available for Android and iOS devices. Wi-Fi connection and Samsung account required.
** SmartThings Energy currently works on approximately 40 home appliances that have the Samsung SmartThings app, including refrigerators, washers, dryers, dishwashers, air conditioners, air purifiers, vacuum cleaners, ovens, hoods, stoves, microwave ovens, TVs (starting June 2022) and energy meters.
Long lasting powerful compressor
Digital Inverter Compressor with 20 year warranty
Enjoy more energy efficiency, lower noise level and long-lasting performance. The Digital Inverter Compressor automatically adjusts its speed in response to cooling demand. So it's quieter, uses significantly less electricity, and is certified to last, as it's backed by a 20-year warranty*.
* The warranty period of 20 years is limited to the compressor only.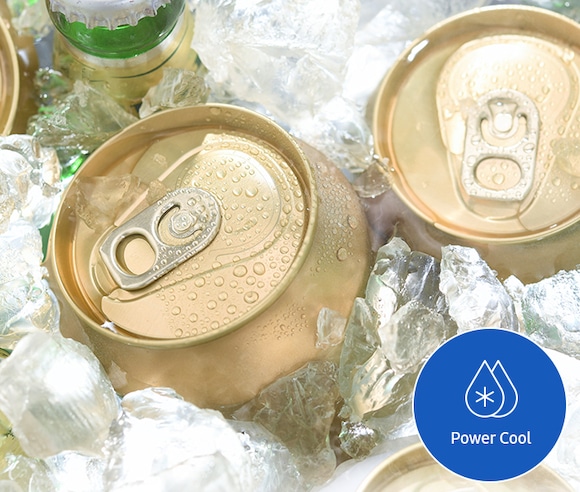 Rapid cooling of food and beverages on demand
Power Cool feature
Enjoy superior performance for quickly cooling food and drinks. At the touch of a button, Power Cool delivers intensely cold air into the refrigerator. So you can quickly chill your weekly groceries to preserve their freshness and taste, or quickly chill your favorite drinks for a party or dinner.
Evenly cooled in all corners
overall cooling
Enjoy a new technology to effectively cool food and preserve its freshness. Advanced Global Cooling continuously checks the temperature and circulates cool air through strategically located vents. So every product you put on the shelf or in the cans is kept at the perfect temperature.