Twistshake's eat-on-your-own cutlery has short handles that are perfectly adapted for the hands of a small child.
Our soft touch finish is developed with anti-slip properties to ensure a steady grip.
All our cutlery has a smart edge on the handle in order to prevent them from ending up in the food.
One could say they're the perfect learning tools!
Why Choose Twistshake's Stainless Steel Learn Cutlery?
BPA-, BPS- and BPF-free – safe for your child and for yourself
PP and TPE-plastic – manufactured from premium material
Soft Touch – a mild and ergonomically surface for the best grip
Knife, fork and spoon – complete set in stainless steel
Suits children 12 months and up
Dishwasher-safe – put in the upper partition
LEARN CUTLERY STAINLESS STEEL 12+M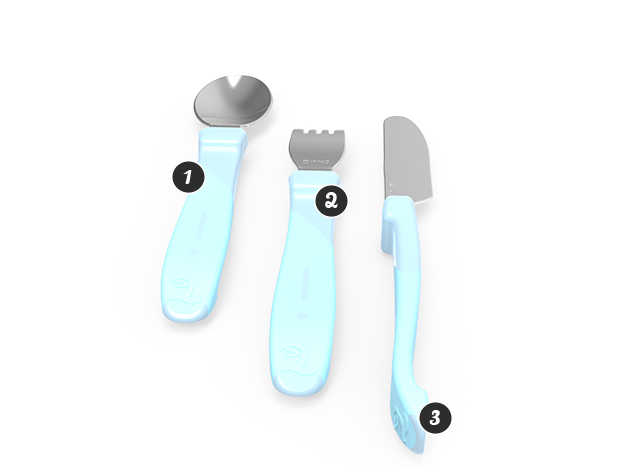 SOFT TOUCH
A smoother surface on the cutlery, ergonomically designed to provide the best fit.
KNIFE, FORK AND SPOON
A complete set to give you the best start.
ANTI-SLIP
The handle on all the cutlery is designed with a convenient edge that prevents them from going in the food.
MIX AND MATCH
A little change is good! Twistshake's cutlery is also available in all our lovely pastel colors.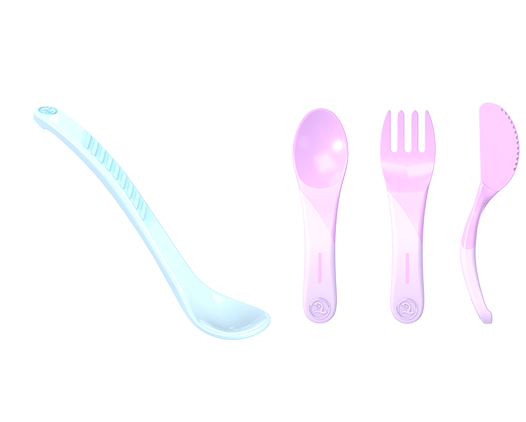 OUR MODELS
Twistshake's eat-on-your own cutlery comes in two series. Check out the 6+m set, or maybe our feeding spoons!
BPA, BPS AND BPF-FREE
For us, the safety of you and your child is the main priority. That's why we are first in the world with testing for BPA, BPS and BPF to make sure that all our products are entirely free from these harmful substances. We want to make sure your child gets the best start in life.