Twistshake's food processor is not only a smart multifunctional machine, it's your best friend in the kitchen as parents.
Our food processor is the perfect choice that quickly replaces all the other machines in your kitchen the easy way and can do everything you want in the way of food for your children and family.
Why Choose Twistshake 6 in 1 Baby Food Processor?
• Easy to understand and to use
• Easy to clean
• You can prepare different dishes at the same time
• Easy to set the correct and even temperature for each purpose
• Easy to mix, heat, steam your food and to sterilize utensils
Let our food processor do the work for your children so that you can focus on something else in the meantime that needs to be done.
Be sure to read the instruction manual carefully before use.
6 IN 1 FUNCTIONS
Steaming – Steam cook fruit, vegetables, meat and more.
Blending – Easily blend your favorite food into a puree or smoothie of your choice.
Heating – Use it as a bottle heater for breastmilk/formula or your homemade puree. Can also be used for reheating food.
Sterilizing – Keep it clean! Sterilize your bottle and pacifiers.
Stay warm – Keep baby food and baby bottle warm for a set amount of time.
Descaling – Auto descaling system with a push of a button.
BABY FOOD PROCESSOR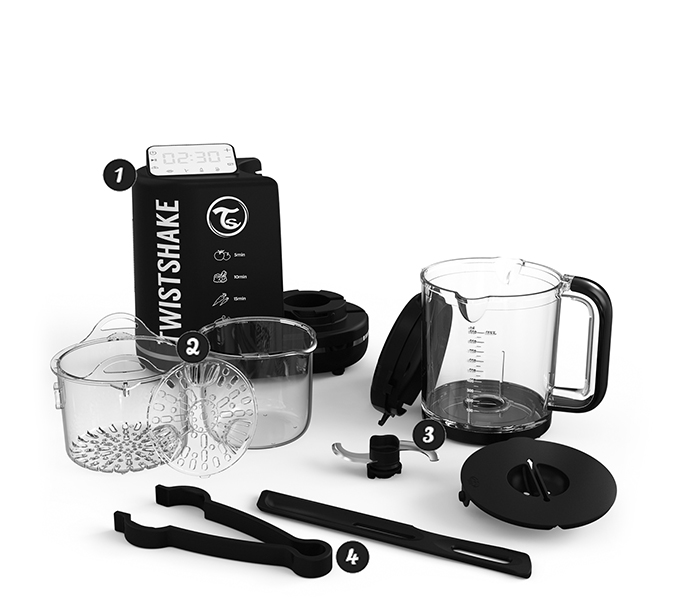 Food Processor
Create natural and nutritious baby meals with Twistshakes cool-looking 6 in 1 Baby Food Processor. The machine combines 6 smart methods such as Steamer, Blender, Warmer, Keep Warm, Sterilizer and Descaling Water Tank systems.
Steam Container
The steaming basket can be used to steam your food or to sterilize your baby bottles.
Blending Jar
The blending jar is used for blending fruit, vegetables and meats with the sharp blades. Use the drop-lid to pour for minimal
spilling.
Accessories
The following tong prevents heat burns when sterilizing baby bottles for example. The ladle makes it easy to scrape out spill-overs from the containers.